Removing cattle age limit could further boost U.S. beef exports to Japan
Removing cattle age limit could further boost U.S. beef exports to Japan
A remnant of the aftermath of the Cow that Stole Christmas, Japan's BSE 30-month rule may fall. Here's why that's a good thing.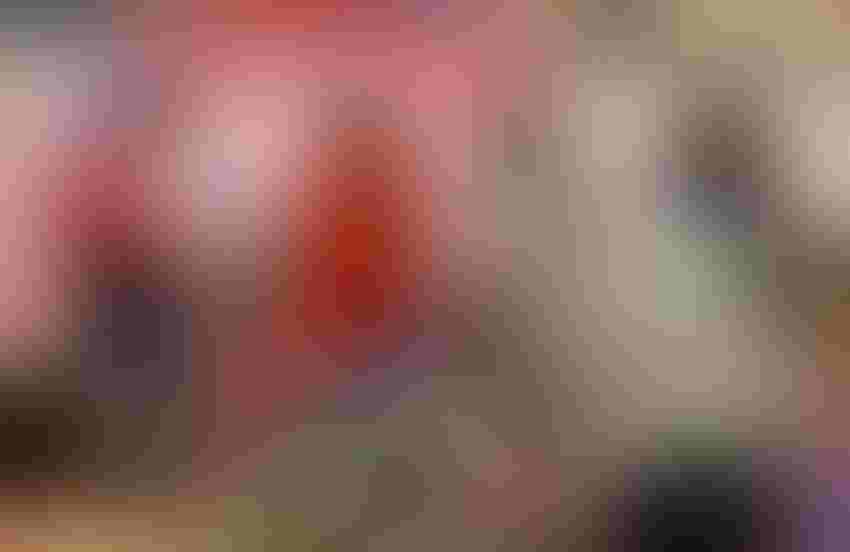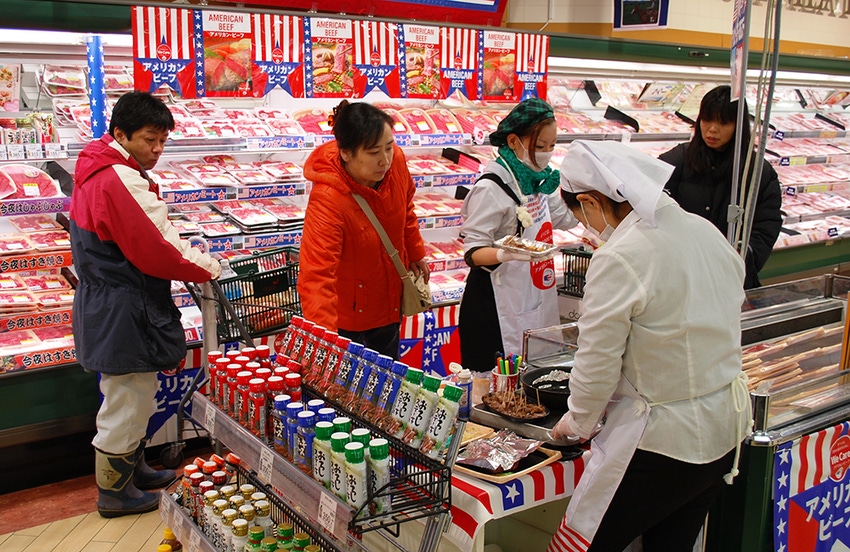 Customers sample U.S. beef at Tokyo supermarket.
U.S. Meat Export Federation
By Joe Schuele
All eyes in the U.S. beef industry are on the U.S.-Japan trade agreement negotiations that opened in mid-April, and with good reason. Japan is the leading international destination for U.S. beef, with exports last year exceeding $2 billion – almost one-fourth of the record $8.33 billion exported worldwide.
The negotiations have taken a heightened sense of urgency since Japan extended more favorable access terms to U.S. beef's major competitors through the Comprehensive and Progressive Agreement for Trans-Pacific Partnership (CPTPP). For Australian, Canadian, New Zealand and Mexican beef entering Japan, CPTPP entered into force at the end of 2018. Another round of tariff rate reductions was extended April 1, the beginning of the Japanese fiscal year. 
But there is another, separate proceeding in Japan that is likely to provide a boost for U.S. beef exports: Japan's Ministry of Health, Labor and Welfare (MHLW) is considering removing the 30-month cattle age restriction on beef imports from the United States, Canada and Ireland.
This would essentially give U.S. beef full access to the Japanese market, with only a few specific product restrictions remaining. MHLW's public comment period in this proceeding ended April 26, and those comments are currently being reviewed.
While there is no definite timeline for final clearance of over-30-month beef to Japan, the U.S. Meat Export Federation (USMEF) has been preparing for this opportunity for some time.
"Obviously the vast majority of the U.S. beef shipped internationally is from fed cattle, even in markets where we enjoy full access," explained USMEF President and CEO Dan Halstrom. "But Japan is such an enormous market that the opportunities for over-30-month beef cuts and beef variety meat are significant.
"Japanese buyers from the pre-BSE era are very familiar with these opportunities, but we are in the process of educating many others who entered the industry over the past 15 to 20 years."
USMEF estimates that removal of the 30-month cattle age restriction will increase exports to Japan 7% to 10%, or by $150 million to $200 million per year.
"At first glance this may not seem like a large bump in what is already a $2 billion market," Halstrom said. "But there are international markets where it can take decades to reach $150 million in exports, yet in Japan we can add this new business in a very short period of time."
Beef muscle cuts from over-30-month cattle that are most likely to achieve success with Japanese buyers include short plate, chuckeye rolls, short ribs, middle meats, clods and briskets – especially when these cuts are derived from cattle in quality-assured programs.
Beef variety meat items most likely to be in demand include outside skirts, hanging tenders, mountain chain tripe, tongues, abomasum and intestines. The ability to use beef from over-30-month cattle will also lower costs for companies exporting processed beef products to Japan.  
Halstrom emphasized, however, that for the U.S. beef industry to fully capitalize on this growth opportunity, tariff relief is sorely needed. Japan's duty rate on beef muscle cuts from CPTPP countries is 26.6% - nearly one-third lower than the 38.5% rate that applies to U.S. beef cuts. For variety meat items the CPTPP rate is 5.7% - less than half the U.S. rate of 12.8%. These tariff rate gaps will continue to widen each year until the U.S. reaches a similar agreement with Japan.
"As with all U.S. red meat products, our over-30-month beef cuts and offals need to be on a level playing field in Japan," he said. "That will allow the U.S. industry to effectively defend our market share and further broaden our Japanese customer base."
Halstrom noted that in addition to the immediate commercial opportunities, Japan's removal of the cattle age restriction will also be a very important regulatory milestone.
"This will be one more step – and a major one at that – toward putting BSE in the rearview mirror when it comes to global beef trade," he said. "BSE is certainly not the disruptive force that it was 15 years ago, but restrictions persist in many markets. So we are very pleased to see this proceeding moving forward in Japan."
Schuele is vice president, communications, with the U.S. Meat Export Federation in Denver, Colo.
Subscribe to Our Newsletters
BEEF Magazine is the source for beef production, management and market news.
You May Also Like
---