Supermarket drives vertical beef chain
Supermarket drives vertical beef chain
About 20 farms in Pennsylvania are growing beef cattle for Karns Quality Meats.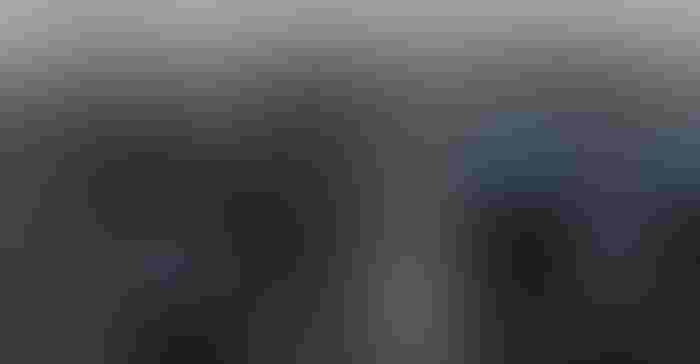 Editor's note: With concerns over COVID-related food shortages and the consolidation of the beef packing industry, there is renewed interest in expanding local beef processing and marketing. This is the first of three stories this week highlighting new beef marketing initiatives in Michigan and Pennsylvania.
Can a vertically integrated model work for beef? It's a model that's being tested out in Pennsylvania on 20 farms raising cattle for Karns Quality Foods, a central Pennsylvania grocery store chain.
But this vertical chain might not be what you think. Karns Quality Foods owns the herd, which supplies a certain percentage of its beef in stores. And Keystone Farm Future fully manages the operation, from cattle to boxed beef. It is sold in stores under the Karns Beef Co. label.
Larisa Miller, president and CEO of Keystone Farm Future, says a new beef business model is long overdue given the growing demand for locally grown beef, the control of the industry by the four large packers, and growers who want a steadier income without the burden of too much debt.
"We can't follow and be tied to the legacy of agriculture because that's not going to work," she says. "This allows us to have a new model, which can reshape our thought process."
How it works
Miller, who grew up on a farm in Lebanon County, Pa., and at one time worked for the Pennsylvania Department of Agriculture as well as the royal family of Abu Dhabi, says it took several years to get from idea to reality. "I gave a lot of thought to changing food system models," she says.
Ultimately, she says it made sense to work with a supermarket chain to understand its needs on a weekly and monthly basis, and build out a beef herd based on those needs.
"The end goal was to create a surety of supply for the supermarket and ensure farmers will get paid a good price, and there was no mystery to costs they would have to put up," Miller says.
Keystone, on behalf of Karns, started building out the herd last November with backgrounded cattle from farms in Virginia and West Virginia. Ten farms, mostly in south-central Pennsylvania, were contracted to grow out the first batches of 700-pound cattle.
Keystone also contracted with Herr Angus Farms in Nottingham, Pa., to become its official induction facility where the cattle were vaccinated and dewormed, and placed on a "calming diet" for about a week before being sent to farms for grow-out.
The goal of the induction facility, Miller says, is cattle uniformity, but also to get the animals tagged, tracked and kept together.
"It's a much more calming experience for them the whole way through to stay together," she says.
Once on farms, the cattle are grown out 26 weeks. Growers provide housing, feed and are responsible for maintaining the animals' health. The cows' diet is usually a corn silage base with alfalfa baleage or soybeans, and a mineral protein mix, says Dave Rodgers, chief herd manager, although that can vary based on the farm.
The first cattle went to slaughter in May and appeared in Karns' meat cases soon after. Rodgers says the average rate of gain has been between 3.75 and 4.25 pounds per day, which he says is above the industry average. Each grower gets paid a set price-per-pound weight of gain.  
Miller says the goal is to get from slaughterhouse to store in about six days.
Recruiting growers
Rodgers, of Honeybrook, Pa., was brought on by Miller to recruit growers, and he also raises cattle for the program. He says that about 65% of the farms he's worked with are transitioning from dairy to beef.
But he's selective in the farms he chooses. For example, he looks for manure below the hocks because anything over can result in significant weight loss since the animals have to expend energy to move. He also looks for clean water bowls, feed in front of animals always, at least 40 square feet under roof and overall good cleanliness.
The more feed and less stress on the animals, he says, the better rate of gain and more money a grower can make.
Elvin Reiff of Mount Joy, Pa., decided to grow cattle for the program after seeing a newspaper advertisement for Keystone Farm Future last year. He now raises 121 head and hopes to grow two batches a year.
In 2018, Reiff transitioned his former dairy farm to beef and raised cattle under contract for JBS, putting out as many as 1,000 head per  year. But with none of his eight children returning to the farm and him farming alone, he wanted to do something different.
Reiff says the program lets him focus on what he's good at.
"Just the infrastructure of it, the stability of not having to own the cattle and think, well, I hope to make some money at the end of that six months. Now they own it, and we just feed them," he says. "We do what we're good at, they do what they're good at, and we actually know what we're going to get paid."
Rodgers says this arrangement can allow a farmer to grow capital quicker.
"The big thing with beef cattle is the initial input costs," he says. "So a tractor-trailer load costs about $80,000. So, what it does for the farmer is you can put $80,000 worth of cattle on your farm, raise them and still get a paycheck. You don't have to line-of-credit … your farm against your cattle.
"This way you take it to the bank and say, 'Hey, I got a guaranteed paycheck in six months, I'd like to buy a tractor.' Well, then you don't have your $80,000 tied up in your cattle, and [this] allows you to grow capital."
But can it work?
Since the initial 10 farms were recruited last fall, Miller says another nine farms have been accepted into the program — a total of 2,500 cattle — and another 243 farms are on a waiting list.
"I honestly thought that getting farmers involved in the program was going to be our biggest challenge," Miller says. "To our surprise, that was not an issue at all. They wanted something new; they needed some security."
Ultimately, though, its success depends on what consumers are willing to pay in the grocery store. Scott Karns, president of Karns Quality Foods, says that about 70% of the meat case in his stores has been converted to Karns Beef Co. cuts. But he admits that it's too early to say whether this will be a long-term success story.
"It's just whether there is enough interest from consumers, because they are paying a premium for it," he says.
Matthew LeRoux, an Extension associate, and small farm and marketing expert at Cornell's SC Johnson College of Business, says many farms market their own products through their own farm stores or farmstand, but he doesn't know of a similar program where the grocery store chain owns its own cattle.
He says the biggest challenge for any whole-carcass marketing program is to balance yield with the rate at which cuts sell.
"Many farms, distributors and retailers buying whole animals have struggled with this challenge. Certain cuts are in high demand from consumers and that is channel specific. For example, a grocery store in one location might sell a lot of steaks, while another sells more roasts and ground meat," LeRoux says, adding that there are several strategies that can be used to manage inventory, like pricing, bundling cuts and developing multiple sales channels that demand specific cuts.
"I would like to see a model like this succeed because it adds value to cattle and pays farmers premiums above market price," he says. "I have seen several enterprises attempt similar marketing strategies in the past, only to be tripped up by inventory management. Selling all the cuts from a carcass has been a challenge for all of them."
Building for the future
Miller says the next step is developing a genetics program to build cow-calf capacity in Pennsylvania.
"You know, people say to us all the time, why are you going to Virginia and West Virginia to buy your feeder calves? Well, the true answer is we buy so many cattle in such a volume that Pennsylvania doesn't have the capacity that Virginia and West Virginia, and the Southern states do," she says. "We'll have cow-calf operations with 20 head on a farm and so forth. But … we can buy a load of 65 all backgrounded together. If you're going to do that in Pennsylvania we'd be piece-mealing from here and there, and the overall success and health of the program won't be there."
Building the program has been challenging, Miller says, from finding a suitable processor to getting Karns on board, and even getting Pa. Preferred certification.
"It is almost impossible to meet Pa. Preferred for beef because the average beef animal changes hands from five to eight times in the process, and that is very difficult to keep track of," she says. "These cattle, they are tagged, and they stay, mostly, in Pennsylvania."
Dylan Beam, livestock manager at Herr Angus Farm, says that building a successful cow-calf program depends on convincing growers that investing in their cow herd will bring a return.
"That's the problem now," he says. "I think a lot of people are of the attitude that they have a couple of calves, take them to a sale barn, and that's it. It's a change of thinking that's needed."
But just the fact that growers have an alternative to selling to the auction or to a packer is a good thing, he says.
"I think it's awesome," Beam says. "There definitely needs to be another player in the big scheme of things because it's so concentrated. The four bigs, they control the whole thing. So I think this is awesome."
Miller admits that the scope of the program, at least right now, is limited. But "there's plenty of space for everyone. It's just a new model"
"We're never going back to normal because normal was the problem," she adds. "We have to look for new ways forward and that means transitioning dairy. There is no reason Pennsylvania can't be known as the best cattle state in the East."
Subscribe to Our Newsletters
BEEF Magazine is the source for beef production, management and market news.
You May Also Like
---