Trump & Biden both talk on Sept. 17; Plus: USDA announces CFAP 2
Trump & Biden both talk on Sept. 17; Plus: USDA announces CFAP 2
Last week, Trump and Biden both offered insights into their agricultural policies. Plus, here's what you need to know about USDA's CFAP 2.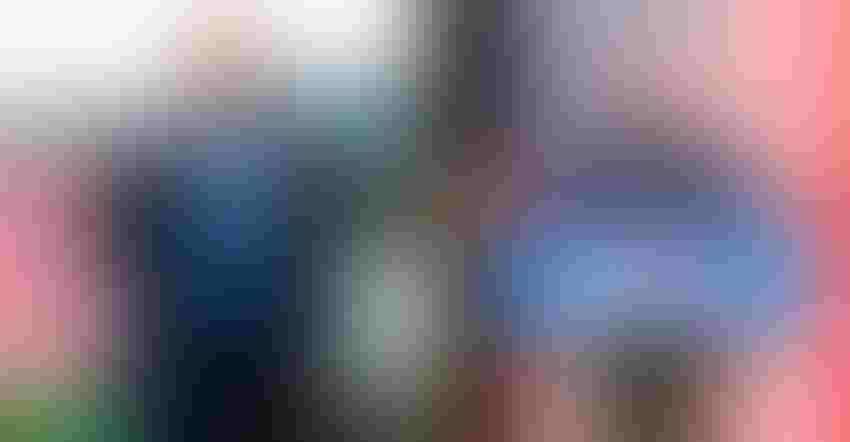 At the end of September, President Donald J. Trump and former Vice President Joe Biden are slated to square up in the first debate leading up to the U.S. presidential election.
While the nation waits with bated breath to compare and contrast the ideologies and political agendas of these two men, those of us in agricultural communities are wondering how will food, fiber and energy industries fare in the next four years with these two very different administrations?
In case you missed it, check out: Trump and Biden: What solutions do they bring to ag?
We have already had a taste of both, having experienced four years under Trump and eight years under an Obama-Biden administration. You likely know very well how you did in production agriculture, but where do these two candidates stand today when it comes to the future of agriculture in this country?
Instead of looking at media headlines or political talking heads spinning things one way or another, how about we look at what Trump and Biden have said about agriculture on the exact same days on the campaign trail?
What happened on Sept. 17, 2020?
Notably, both candidates spoke about production agriculture, so let's take a look at what they had to say.
First up, we hear from Biden, who spoke at a town hall meeting hosted by CNN, where he fielded questions from voters from both sides of the aisle and gave insights to what a Biden administration would look like for middle class Americans.
During the event, host Anderson Cooper introduced Julie Masser Ballay, a potato farmer from Sacramento, Penn., a member of the Pennsylvania Farm Bureau and a Republican who voted for President Trump in 2016.
In case you haven't seen the now viral clip, I'll let you read the exchange in its entirety here:
Biden: "Julie, welcome."
Ballay: "Thank you."
Biden: "How are you feeling now, Julie?"
Bally: "I'm - good evening. Over-regulation puts an extreme burden on small- and family-owned farms, and is a contributing factor to many farms going out of business. Policies during the Obama Administration such as the rules under the Waters of the U.S. Act threatened to increase that regulation, as does policies proposed through the Green New Deal, which your climate plan embraces.
Biden: "No, it doesn't embrace—"
Ballay: "Excuse me, if I could finish."
Biden: "Right, I'm sorry."
Ballay: "Thank you."
Biden: "Apologies."
Ballay: "How do you plan to decrease the regulatory burden for farmers and businesses as a whole?"
Biden: "Two ways. Number one, we should provide for your ability to make a lot more money, as farmers, by dealing with you being able to put land in land banks, and you get paid to do that to provide for more open space and provide for the ability of you to be able to be in a position that we are going to pay you for planting certain crops that in fact absorb carbon from the air.
"That's part of what the plan relates to, in terms of agriculture and the environment. But as it relates to - if you are talking about regulation that relates to fertilizer and water tables, that's a different thing.
"In the United States, in my state of Delaware, we have a $4 billion industry, chickens - chicken and poultry. And all what is - all the manure, quite frankly, that is a consequence of chickens, and so it is polluting the Chesapeake Bay.
"What we found out, we've invested a lot of money, we found out you can pelletize this and take out - take out the methane, so you are in a position where you can use that fertilizer without the damage that was being done before. The same way with horse manure and cow manure and pig manure.
"And we can create thousands of jobs in rural America as a consequence of setting up these small industries within communities. And so, that's the way you'll be able to continue to farm without worrying about whether or not you're polluting, and being in a position where you're able to make money by what you do in the transition as well as be able to grow more."
You can read the entire transcript from the town hall by clicking here.
Meanwhile, on the same evening of Sept. 17, President Trump held a campaign rally in Mosinee, Wis., where he reviewed his achievements in trade and made an appeal to the farmers to grant him four more years in the White House.
Here is an excerpt related to agriculture from his hour-and-a-half speech:
Trump: "So big tax cuts, big regulation cuts. The Democrats, they want to … the Democrats, they want to just really break us down in terms of our competitive ability to compete with other nations. Do you notice what's happening with Japan? You notice what's … We have taken billions and billions of dollars in from China. We charge them a fortune.
"In fact, many farmers in this group, because you got to love Trump. I gave you $28 billion, right? Thank you very much, China, right? You were targeted. $12 billion, Sonny Purdue, Secretary of Agriculture. I said, 'Sonny, how much have they been hit for, targeted for?'
"Remember when China said we're not going to do anything, we're not buying. They thought they were going to put pressure on us. Sonny said, "Sir, $12 billion, the year before last and last year was $16, total of $28 billion." We took $28 billion out of the tariffs. China never paid us 25 cents, not 25 cents with Obama and Biden.
"And in all fairness with no president, they paid us nothing. They pay us now tens of billions of dollars. I took a small portion of it, I added it up, $16 and $12, $28, and I said, $28 billion is going to the farmers. Did everybody get that money, right? You had a very good year, the farmers have had a very good year.
"Last week, China ordered and you have to understand, I view China differently now than I did six months ago, we made a great trade deal but I view it differently because I don't know if I can ever view it the same. But last week they know how I feel and they're very smart. So instead of saying, we're not going to do business, which would have been okay with me. We would have worked it out somehow, you would have been very successful, the farmers.
"But last week, they had the largest order of corn. Did you know this? In the history of our country. Did anyone know this, the farmers? From China, thank you very much. The largest order of soybeans in the history of our country. And one of the largest cattle orders in the history of our country, because they're very smart."
Read Trump's speech in its entirety here.
Coronavirus Food Assistance Program (CFAP 2)
The very next day, Trump announced that an additional $14 billion would be given to agricultural producers who continue to face market disruptions and associated costs because of COVID-19. Signup for CFAP 2 will begin Sept. 21 and run through Dec. 11, 2020.
Read more about CFAP 2 and how to apply by clicking here.
More details to come on this second rollout of payments will be provided in upcoming blogs. To follow all of BEEF's election coverage, click here.
The opinions of Amanda Radke are not necessarily those of beefmagazine.com or Farm Progress.
Subscribe to Our Newsletters
BEEF Magazine is the source for beef production, management and market news.
You May Also Like
---