USMCA takes effect July 1
USMCA takes effect July 1
The updated NAFTA is expected to increase agricultural exports by $2 billion annually.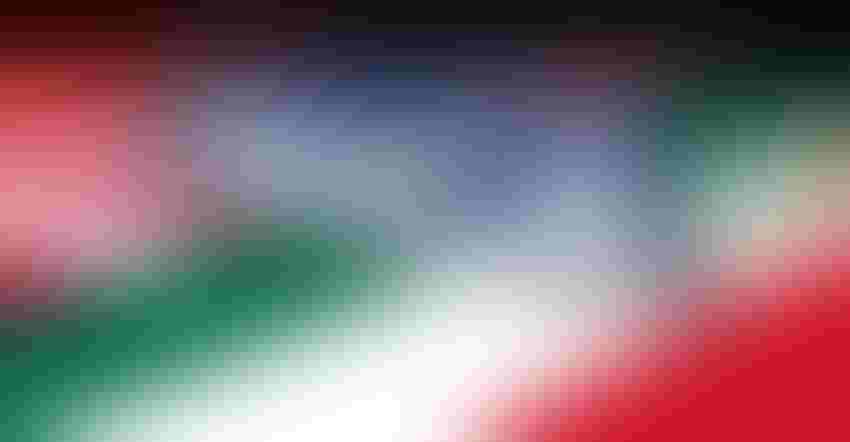 MEXICO FALLS SHORT ON USMCA: Mexico's move away from agricultural biotechnology does not meet standards set in USMCA trade agreement.
wildpixel/iStock/GettyImagesPlus
Updated with more comments.
The United States-Mexico-Canada Agreement takes effect today (July 1).
The agreement modernizes the 25-year-old North American Free Trade Agreement. It was signed on Nov. 30, 2018.
President Donald Trump hailed the deal, saying "USMCA is a great deal for all three countries, solves the many deficiencies and mistakes in NAFTA, greatly opens markets to our farmers and manufacturers, reduces trade barriers to the U.S. and will bring all three great nations together in competition with the rest of the world."
The Office of the U.S. Trade Representative says the key achievements include:
Expanded market access for U.S. dairy, poultry and egg products;

Elimination of Canada's Milk Classes 6 and 7;

A mechanism for cooperation on ag biotechnology;

Commitments to avoid trade-distorting policies;

Fair treatment in quality grading for U.S. wheat, and

Non-discrimination and transparency commitments regarding the sale and distribution of alcohol beverages.
The trade deal is expected to increase agricultural exports by $2 billion annually and contribute an overall increase of $65 billion to the U.S. gross domestic product, according to the American Farm Bureau Federation.
"The launch of the USMCA brings optimism to the country's farmers and ranchers at a time they need it the most," said American Farm Bureau Federation President Zippy Duvall. "We're grateful for the opportunity to build on the success of the North American Free Trade Agreement, and we're eager to see the results on America's farms."
However, the USMCA is not a magic bullet for the challenges facing agriculture, Duvall said. A University of Florida study shows Mexico gaining ground in imports of produce like tomatoes, strawberries and bell peppers. USMCA does not alter the rules for imports of produce from Mexico. Farm Bureau supports the United States Trade Representative and USDA field hearings to receive grower input on the issue.
"As with all trade agreements, there are some areas that still need attention," Duvall said. "We will continue to work with the administration to level the playing field for fruit and vegetable growers facing increased competition from Mexico."
Canada and Mexico are leading trading partners of the United States.
What are others saying? 
"The agreement provides new opportunities for agricultural exports, enhances standards for biotechnology, reduces trade distorting policies, and modernizes sanitary and phytosanitary standards using a science-based approach," said Chuck Conner, president of the National Council of Farmer Cooperatives. "By reaffirming our relationship with our two closest trading partners, the USMCA will also help grow rural economies and provided jobs for many Americans beyond the farm gate." 
"This trade agreement benefits many commodities, such as dairy, poultry and wheat," said Missouri Farm Bureau President Blake Hurst. "It also ensures that products from all countries will be graded and treated in an equal manner. The deal also addresses new technologies that are important to farmers and ranchers. We look forward to a continued strong partnership with Canada and Mexico." 
"We look forward to the implementation of the USMCA, which is an emphatic win for agriculture and the millions of hard-working men and women who grow the food, fuel and fiber that feeds our growing world," said The Fertilizer Institute President and CEO Corey Rosenbusch. "We are confident that USMCA implementation will strengthen U.S. agriculture and the countless communities whose economic well-being is tied directly to the soil." 
"This marks the start of a new chapter for North American trade," said Association of Equipment Manufacturers President Dennis Slater. "USMCA expands agricultural market access, establishes rules for e-commerce, strengthens labor and environmental protections, and updates customs rules that will cut red tape and make it easier for U.S. manufacturers to sell to their Canadian and Mexican customers." 
"USMCA goes into effect today, and this is welcome news for American agricultural producers who have weathered a 6-year slump in the farm economy," said House Agriculture Committee Ranking Member K. Michael Conaway. "USMCA will provide better market access and much needed certainty for our farmers and ranchers."  
"Questions still remain about how countries will carry out the hotly debated provisions, but at least sectors spanning from agriculture to manufacturing, and labor, have more trade certainty than they did at the end of 2019," said Ryan Bernstein, a senior member of the Federal Public Affairs group in Washington with McGuireWoods Consulting.  
"USMCA is a win for U.S. soybean farmers and the American economy, as it restores certainty and stability to two important export markets for our farmers and lays a foundation for future growth," said American Soybean Association President Bill Gordon, a soybean grower from Worthington, Minnesota. "In addition to securing the Mexican market as the second largest importer of U.S. soybeans, the terms agreed to by Canada will increase U.S. poultry and dairy exports, which is another positive for the ag industry." 
"A completed USMCA finally gets us past the uncertainty and that is welcome news to U.S. wheat growers," said U.S. Wheat Associates Chairman and Paulding, Ohio, wheat farmer Doug Goyings. "Especially as we now see an opportunity for U.S. negotiators to take this as a gold standard agreement and launch negotiations with other countries, where U.S. wheat growers face tariff and non-tariff barriers." 
 
"After years of hard work, we are excited to see USMCA be put into action. USMCA is not only vital for farmers but essential to help grow the rural economy," stated National Association of Wheat Growers President and Cass City, Mich., farmer Dave Milligan. 
The USMCA "preserves and strengthens market access while providing effective new mechanisms and safeguards to resolve sanitary and phytosanitary (SPS) issues that in the past periodically have disrupted trade," said National Grain and Feed Association President and CEO Randy Gordon. "But the accord's longest-lasting and most important impact may well be the solid framework it provides for the United States to negotiate significant new trade agreements with other countries, including Japan, Vietnam, the United Kingdom, Kenya and other nations on the African continent." 
"The U.S. meat and poultry industry exports $5.5 billion annually in products to Canada and Mexico," said Meat Institute President and CEO Julie Anna Potts. "This agreement is critical to meat and poultry processors and the millions of U.S. farmers, ranchers, allied manufacturers and transportation companies in the food supply chain." 
"This long-awaited day brings much needed certainty to farmers, ranchers, and business owners across America, who can continue to build upon the strong partnership we have with Mexico and Canada," said Senate Agriculture Committee Chairman Pat Roberts, R-Kansas. 
Subscribe to Our Newsletters
BEEF Magazine is the source for beef production, management and market news.
You May Also Like
---