Seeing under the skin: Ultrasound scanning adds value to the herd
Seeing under the skin: Ultrasound scanning adds value to the herd
Like many things in life, it takes doing a little more to get a little more.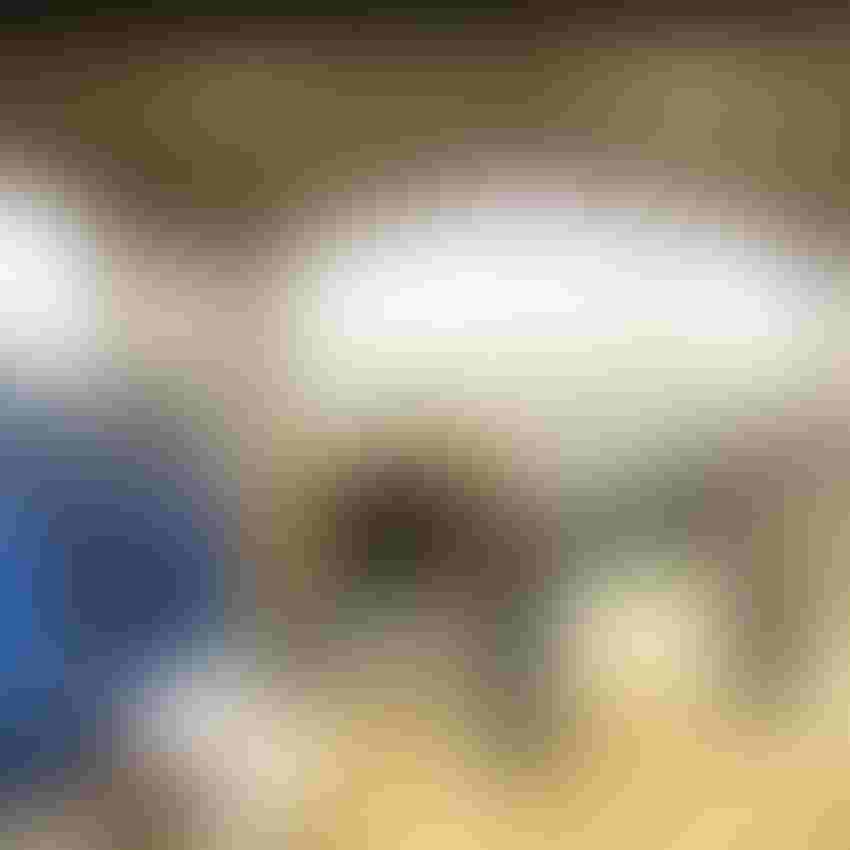 Amanda Engle demonstrates ultrasounding during a Select Sires field day in Alabama.
Part of being a good stockman is having a "good eye" for picking out the best animal from a string. Along with EPD figures, selecting breeding animals based on their "look" and how they stand, walk, graze, etc. is an important part of a good stockman's selection criteria.
However, even the most trained eye can have difficulty ranking an extremely even string of cattle from best to worst, and how do we even know we're correct after we pick the 'best' animal?
Ultrasound scanning of live animals to determine the potential for carcass quality in their calves is becoming more popular among progressive producers as a way of proofing the best animals and verifying what's underneath a slick coat. Amanda Engle, independent ultrasound technician based out of Alabama, is one of the small number of licensed techs who is bringing the benefits of ultrasound scanning to her customers.
"Ultrasound scanning gives us a great insight into the potential phenotype and performance data about an animal," Engle says. The process involves scanning the loin area of an animal with a portable hand-held scanning device, similar to a pregnancy scanner, to assess the ribeye area, backfat, rump fat and intramuscular fat (marbling).
While EPDs will give producers a prediction of what an animal's offspring should look like and how they will perform and grow, Engle says she is often amazed with the results and differences between herd mates that scan results produce.
Live feedback
Ultrasound scanning is typically used by top-end producers who want to provide more data and backup info to verify an animal's breed qualities and genetics. However, Engle is seeing a growing number of commercial cow-calf producers utilizing the technology as a means of standing out from the crowd.
Carcass traits are highly heritable, so ultrasound results can add significance and value to EPD figures. Engle recommends producers getting started with an ultrasound program scan all their yearling heifers and older cows.
Contemporary groups can then be assessed and cattle ranked from best to worst against the herd mates of same age and sex. "A traffic light scorecard of red group poor performers, yellow group moderate cattle, and green group good do'ers will give a cow-calf producer a great base to start making more informed decisions," Engle says.
Breeding
Ultrasound scanning can improve genetic gain and marketing ability of the cow-calf herd. "Culling out that red group from the breeding heifers will see a big improvement in calf quality over a few years," Engle says.
Although heifers may look the picture while at pasture, Engle and other scanning techs can identify "mutton dressed up as lamb;" heifers with great EPD numbers and great breeding pedigrees, but poor internal structure, ribeye and marbling scores.
AI bull decisions can be better tailored toward improving genetic traits in the herd if scan data is included in the AI straw selection process. Bulls can be picked to improve EPD figures, but also to build upon how the herd's EPD phenotypes are playing out in real life.
"Maternal-focused breeders can gain from scanning results too, it's not just terminal traits that benefit from scanning. At the end of the day, we want all breeding cows to have good ribeye potential, even if their primary aim is to breed replacement heifers." Engle says.
More data and more credibility give producers an opportunity to command premium prices when marketing cattle. "A producer can say to a potential buyer how their cattle are likely to perform and back it up with real scanning data. It brings higher-value marketing and increased sale opportunities to the commercial cow-calf ranch," Engle says.
Credibility
Unlike pregnancy ultrasound scanning, which relies on the judgement and trained eye of the tech to make the decision, carcass ultrasound scanning is completely verified by third-party laboratory analysis. Currently, there are three independent laboratories in the U.S. that verify scan images and report back to farmers.
Engle believes that this independence and credibility is a crucial part of the process and gives everyone involved peace of mind that the results are accurate and unbiased. The Ultrasound Guidelines Council (UGC) is an industry body that maintains the standards of certified scanning techs. Only a small number of techs are certified and breed associations are only allowed use results for EPDs from UGC techs.
Uptake of ultrasound scanning is expected to become more widespread as producers seek to add value to their herd. Some issues such as the cost of scanning (around $20 per head) and the need for handling facilities can pose challenges to some producers utilizing the technology.
"I think the guys that get established early are going to lead the pack and build up a base of repeat customers for whatever type of animal they're marketing," Engle says. Like many things in life, it takes doing a little more to get a little more.
Cox is a dairy producer and freelance beef/dairy writer based in Missouri. The opinions of the author are not necessarily those of beefmagazine.com or Farm Progress.
Subscribe to Our Newsletters
BEEF Magazine is the source for beef production, management and market news.
You May Also Like
---