Perdue gets rare friendly confirmation hearing
Perdue gets rare friendly confirmation hearing
The Senate Ag Committee approved Perdue's nomination in a Thursday committee meeting. With the first step of the confirmation process now complete, the ag industry is looking forward to finally getting a Secretary of Agriculture in place.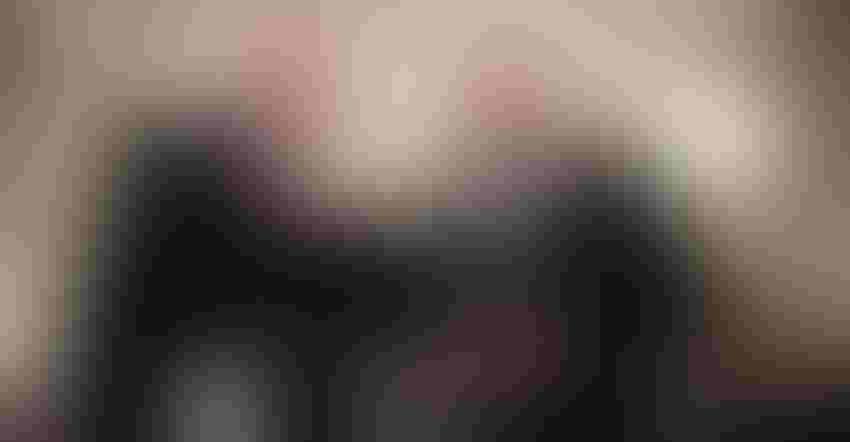 Sen. Patrick Leahy (D-VT) talks with Sonny Perdue before the start of Perdue's confirmation hearing before the Senate Committee on Agriculture, Nutrition, and Forestry on March 23, 2017.
Drew Angerer/Getty Images
President Trump's nominee for agriculture secretary got something rare late last week from the Senate Agriculture Committee —a friendly attitude, relatively easy questions and several senators thanking him for his willingness to serve. Evidently, Ag Committee members had an exemption from Minority Leader Chuck Schumer's (D-New York) instructions to attack on every front.
The committee followed up with an easy approval vote to recommend Perdue's nomination to the full Senate on Thursday, March 29.
During his March 23 hearing, a knowledgeable, confident and genial Sonny Perdue actually seemed to enjoy the back and forth, the recognition of his family and the obvious respect for his experience in agriculture and as Georgia governor. Incidentally, Sonny Perdue is not related to the Perdue poultry family.
Ironically, Perdue had his hearing during the same month that the last secretary with extensive agricultural experience, Clayton Yeutter, passed away. Yeutter was secretary from 1989-1991 and was born and raised on a Nebraska farm. Yeutter farmed for 18 years before going back to get economics and law degrees which lead to several major government posts.
Besides his direct farm experience, Perdue seems tailor-made to deal with today's key issues, especially antibiotic use. Most would hope his veterinary background will help guide USDA and other federal departments through thorny questions regarding human antibiotic resistance and alleged connections to animal agriculture.
Much of Perdue's business experience has involved exporting agricultural products. In response to several questions, he pledged to aggressively push agriculture's need for more export access within Trump's administration.
He expressed a desire to work with U.S. Trade Representative (USTR) nominee Robert Lighthizer and Commerce Secretary Wilbur Ross to see that agricultural products get "first on the list of things the U.S. has to trade." Trade is at the top of farmers' priorities these days, he said, adding that especially in the era of tough markets and rough financial outlooks, trade is the answer. Later, he added that Lighthizer had told him that 80% of the pressure he's heard regarding trade has come from agriculture.
One of the few other Trump nominees still languishing, Lighthizer is waiting for a waiver regarding some previous work done for a foreign country.
One of the problems Perdue is facing is that President Trump's proposed budget was prepared without input from the missing Secretary of Agriculture. Ranking minority member Sen. Debbie Stabenow (D-Mich.) was especially critical of the cuts in USDA's budget, some 21%, the third largest of any agency. Certain key services for farmers and ranchers will see potential slashes of up to 1/3 of their current budget.
In another exchange, a senator noted that the very data needed to manage risk management programs were threatened with budget cuts under the President's budget. Perdue stressed he would work with the committee to see what could be done to find more budget room.
Other issues
Several senators called for help in returning to common sense management of national forests in their states, to counter the gathering fuel caused by constant lawsuits stopping proper forest management, leading to terrible forest fires. The U.S. Forest Service has been begging and borrowing, as nearly two-thirds of its budget has been going to fight fires. That is spending money in the most expensive way, one senator said.
Perdue said he would work to make the national forests good neighbors to state and private lands. He also indicated that, given activist groups' lawsuits hampering forest and water management and the 9th Circuit's allowing of it, he would look at legislation to solve the problem. In fact, he would like to prove to the activist groups that properly managed forests are productive for everyone.
Of interest to cattle feeders, Sen. Joni Ernst (R-Iowa) asked Perdue if he would support a strong Renewable Fuels Standard (RFS) and Perdue confirmed that he would. Ernst also said agriculture needed a secretary who would let other agencies, especially EPA, understand the unintended consequences of their regulations, when farmers are the good stewards of the land.
A northeastern senator emphasized the importance of immigrant labor to agriculture. Perdue did commit to getting the immigrant labor to where it is needed, whether unseasonal like dairy farming or seasonal, like fruits and vegetables. Asked about reforming the H2A program, Perdue said trade and the H2A programs would be his top priorities.
Pressed about getting more food to more families through the SNAP or food stamp program, Perdue said he would work to get the program more efficient and effective.
Several senators brought up rural development needs, especially regarding water systems and broadband. Perdue said he hoped to get rural broadband into Trump's infrastructure plans.
The problem of opiate and heroin addiction in rural communities was also raised, with questions about what USDA programs could help in that area.
Another senator complained of inflexibility in administering the last Farm Bill and hoped Perdue would be open to re-evaluating program administration. Perdue said he would.
On the subject of the Brazilian meat scandal, Perdue said he thought USDA would re-inspect anything that had come here but he believed nothing had been sent. If we shut things down, there would be repercussions, so he believed allowing USDA-FSIS to handle things as they knew how was the right course.
As for the Farm Bill, Perdue said the last one had made progress in ensuring farmers had some kind of safety net for production and prices and that the test is whether or not taxpayers are getting good value for their money. He wants it to be a good deal for taxpayers and for farmers. He also said conservation programs need to be improved. It is critical that farmers can use precision ag to get the most out of their inputs. Farming is all about continuous improvement, he said.
Crop insurance and risk management were areas in the Farm Bill needing improvement and he wants to see more emphasis on research, as that is the basis for agriculture's productivity and adoption of high technology management.
At the Senate Agriculture Committee's March 29th meeting, they approved Sonny Perdue's nomination to be agriculture secretary. His nomination will now move forward to the full Senate.
Subscribe to Our Newsletters
BEEF Magazine is the source for beef production, management and market news.
You May Also Like
---